Barrington
Barrington spends three weeks decorating with 25,000 lights on lampposts and trees, and then kicks off the holiday season with a festival and tree lighting at Town Hall on December 2. The one-day event includes performances by Arts Alive, The Barrington Middle School A Capella Chorus and the Barrington High School Chorus. Plus, Santa arrives by fire truck, and there will be horse and wagon rides, hot chocolate, food trucks, letters to Santa and literally the magic of the season, though you'll have to wait to find out what that is.

Block Island
You might assume Block Island hibernates for the winter, but you'd be wrong. The weekend after Thanskgiving is the Block Island Holiday Shopping Stroll, when Old Harbor lights up with festive cheer, especially the tree made entirely of lobster pots. Through the weekend, shops will be offering special deals, and every place you buy gets you entered into a raffle to win prizes on Sunday afternoon. There's also a 5k Turkey Trot on Saturday, November 25, to help you burn off all of those leftovers.

Bristol
This seaside town does the holidays right, starting in November. On November 19, dive right into the season at the Christmas Snow Ball. The gala at Bristol's DeWolf Tavern will have cocktails, gourmet fare, a holiday auction and live music.
That day is also when festivities start at Bristol's Blithewold Mansion, which hosts possibly the state's grandest holiday celebration. With the help of 80 volunteers, the mansion and grounds will be decorated in a Roaring '20s theme, including 49 decorated trees (a 22-foot-tall tree is in the entry, which holds 3,600 lights alone). Blithewold holds holiday teas, sleigh rides, events with Santa and festive fun nearly every day during the season. Friday nights are Sparkle!, when 22,000 lights illuminate the grounds, and there are carols, s'mores at the bonfire and lots of festivities. Linden Place, another grand home in Bristol, also decks their halls and has nine designers creating gorgeous tablescapes for different rooms, plus tours and holiday events until January.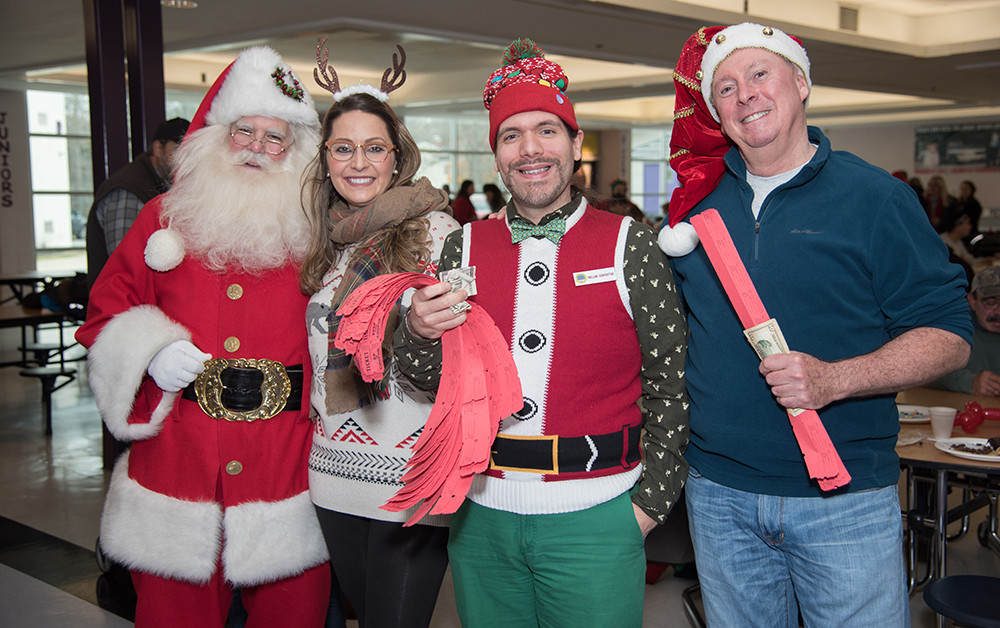 True to its name, Bristol's Grand Illumination on December 2 will flip the switch on over 200,000 lights that adorn downtown Hope Street, including 35,000 of them on a 30-foot Christmas tree. The night will include holiday shopping, caroling and treats as thousands of people fill the streets. It's also when the Bristol Merchants Association annual Snowflake Raffle kicks into high gear. You get entries for every purchase you make, and on December 16, there's a drawing for big cash prizes. December 3 is their annual Breakfast With Santa at Mount Hope High School. On December 10, there will be a performance of Dylan Thomas's A Child's Christmas in Wales at St. Michael's.
Narragansett
Rhode Island's favorite surf town goes all out on December 3 for the Narragansett Festival of Lights, which is a whole day of festivities, including holiday trolley rides, a Jingle Bell Run on Narragansett Town Beach and festive treats. The Towers hosts performances and pictures with Santa all day, and there will be luminaria lighting up the sea wall. The main event at 5pm is the tree lighting, followed by a fireworks display.
From December 2-10, Narragansett Theatre at the Pier presents their own twist on A Christmas Carol, updated with music and topical humor. The Contemporary Theater Company hosts their annual Christmas Cocktail Cabaret at The Towers on December 21, featuring carols, festive music and all the holiday cheer you can handle.

Newport
The City by the Sea does it up for the holidays, and not just at the Mansions. Yes, you can see a 15-foot poinsettia tree at The Breakers, and other gorgeous decorations at The Elms and Marble House. If you're lucky enough to score tickets, you can see The Nutcracker performed at Rosecliff.
The city lights up in lots of other ways, too: at the Bowen's Wharf Block Party on November 24, an illuminated boat parade will light up Newport Harbor and steel drums will create a Caribbean Christmas vibe while you shop all the sales. The tree lights up on December 1, and Christmas in Newport kicks off, with events every day throughout the month. The Newport Holiday Stroll runs December 3-4 and 10-11, and there's a festive Train to Santa's Workshop. There are concerts like the Messiah Sing, historic events like Christmas at Whitehall, lantern tours, holiday teas and lots of appearances by Santa. Makes you wonder how he finds time to make all those toys.

Providence
The capital city has tons of celebrations happening, from plays and concerts to art sales and festivals. Mayor Elorza kicks off the celebrations with the City's 2017 Holiday Celebration and Christmas Tree Lighting on December 1-2, which features a tree lighting at City Hall and one at The Providence Rink, plus figure skating demonstrations, live performances and an artists' marketplace. On December 2, walk on the wild side at the Roger Williams Park Zoo Winter Festival, happening at the carousel in the park. There will be a visit from Santa, fun kids activities and more.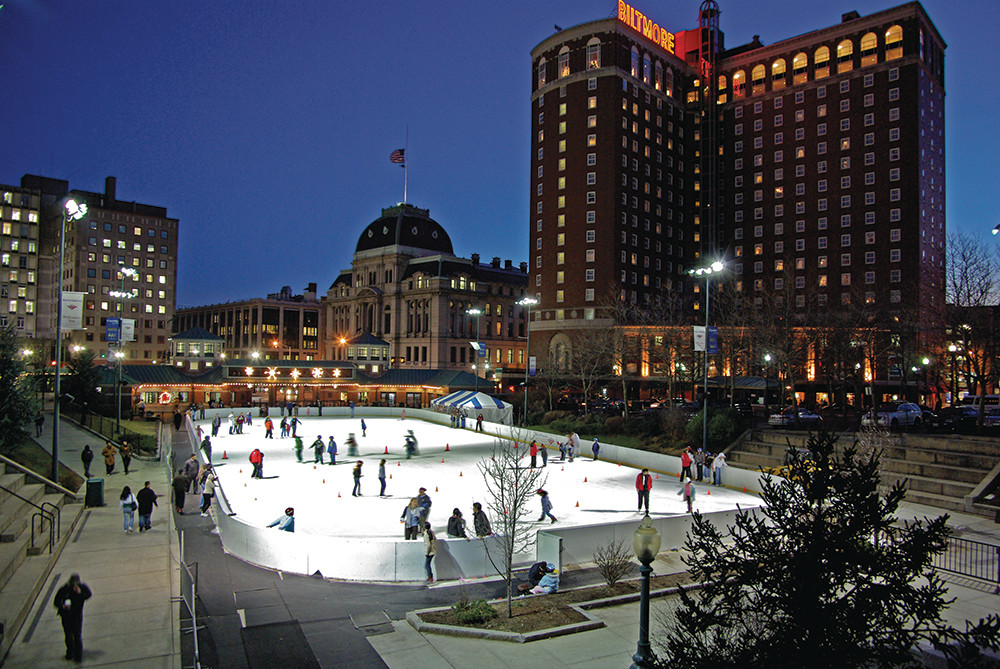 One of the most beloved neighborhood traditions in the city is the Hope Street Holiday Stroll on December 3, featuring performances by local musicians, street performers, tons of food trucks and lots of holiday festivities, including an appearance by characters from Festival Ballet's The Nutcracker.
And, of course, there are lots of ways to shop. Celebrate Downcity is hosting a block party on Small Business Saturday, November 25, with shopping specials, kids' crafts and an appearance by Santa. The Lady Project Winter Marketplace at The Arcade will celebrate #WomenOwnedWednesday with 15+ vendors from female-owned businesses, plus food, drink and mini-massages. The Providence Flea Holiday Market happens at Hope High School on December 3, 10, 16 and 17, and brings together vintage vendors, artisans and creative makers for a unique shopping event.

Tiverton
Tiverton has New England charm for days, but never more so than during the holidays. Their annual Holiday Bright Night on December 8 is an evening of festivities when the shops stay open late and offer refreshments, with entertainment at Four Corners Meeting House.
One-of-a-kind gifts are in abundance at Tiverton's annual Arts and Artisans Festival, December 16-17. Fourteen local artists set up shop inside the Meeting House at Tiverton's historic Four Corners, selling homemade items such as glass sculptures, pottery, bags, candles, jewelry, accessories, woodwork and paintings. On the second day of the festival, Santa will read to children and take pictures, with proceeds going to Tiverton Food Bank. The festive environment at The Meeting House includes lights, lanterns, holiday greens and wreaths as well as hot cider and live music.
Wakefield
Because of its concentration of food, stores and attractions, Main Street in Wakefield is one of the state's best destinations for strolling and shopping while leaving your car behind. Use that to your advantage on December 2 during the Wakefield Winter Wonderland. Not only do merchants host a scavenger hunt, they do so while reenacting classic holiday movie scenes in their stores. Outside, the streets are illuminated with thousands of Christmas lights, especially after the tree lighting. There will be holiday rides on the South County Trolley, roving carolers and photos with Santa.
Rhode Island has a lot of Christmas Carol productions that happen every year, but none like Mrs. Bob Cratchit's Wild Christmas Binge at the Contemporary Theater Company. In this farcical show, which runs December 1-17, Mrs. Bob hates her kids, and Scrooge believes the world would be better off without him.

Westerly
Ring in the holiday season on November 24 with Santa's Arrival in Westerly. The streets of downtown will be adorned with luminaria and holiday decorations, and there will be hayrides and caroling before the main event: the Jolly Old Elf himself. The next day, Ocean House in Watch Hill reveals their Christmas Village and hosts their annual tree lighting ceremony. Throughout the next month, the luxury hotel hosts dinners and brunches with Santa and events like gingerbread house workshops.
The Chorus of Westerly hosts two beloved annual events: the Messiah Sing on December 2, and Christmas Pops on December 16-17, a spirited holiday concert. Nearby at Granite Theatre, they're staging A Christmas Survival Guide from December 1-23, a funny show about coping with holiday stress through music, song and laughter.

Wickford
Wickford might just win the award for most Rhode Island holiday celebration. During the Wickford Village Festival of Lights, Santa arrives by boat in Wickford Harbor. But that's just the beginning of the fun. There's also an Elf Parade, hayrides with Santa, a tree lighting with a performance by the Lafayette Band and the North Kingstown Community Youth Chorus, a living nativity, ice sculptures made in real time, and more. Merchants stay open late these nights, and Smith's Castle hosts their annual Christmas at the Castle, showcasing what the holidays were like in the 18th century.
On December 9, the North Kingstown Chamber hosts their annual Breakfast with Santa, when they transform North Kingstown High School into a winter wonderland, with cookie decorating and holiday storytelling, plus some face time with the man in red himself.